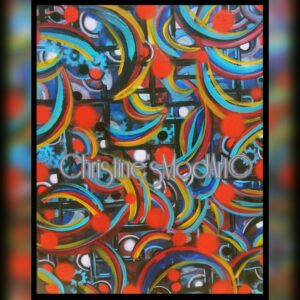 "Peace In An Imperfect World" (16×20) Acrylic on Canvas.
The rainbows in this piece represent inner piece within a busy complicated world. This piece is about the importance of maintaining self when all things are chaotic. It is through inner peace that we have joy and happiness. It is through inner peace, that we maintain who we are and stay true to ourselves. It is in knowing who we are as individuals that we know what's important in life.
I really love this color scheme on this piece. For me, these colors represent tranquility. Finding my inner peace as I cope in an imperfect world. Thinking of my dad who is greatly missed. He died in 2012. It will be three years since this death. It was his birthday not too long ago (on April 27th). It's true what they say about losing a loved one. It leaves a hole in your heart that can never be filled. That things won't ever be the same again. So true. I have so many fond memories of my dad: cycling, camping, debating, coffee on Sunday mornings while reading the newspaper, listening to KJazz radio (Frank Sinatra on Sunday mornings), the I-love-you Post-Its put on my breakfast burritos (that my dad made) left for in the mornings while going to law school, operas, Hollywood Bowl, his awesome hugs that made everything feel better, the no-matter-what-everything-will-be-alright days while stressing over finals. Thinking of my dad makes me smile. I feel so truly blessed to have those memories of my dad. To have shared those times with my dad. Memories that are irreplaceable. It is because of him and the times that we shared that I can cope. It is in these moments that I have peace. I love you, Dad.